JOHN HANKLA
Masters Candidate, Museum & Field Studies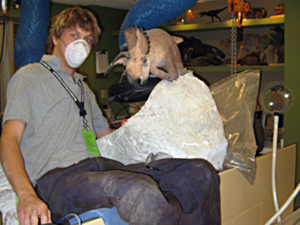 As a graduate student in the University of Colorado's Museum and Field Studies program I work in the field, in collections, and also on the public side of CU's natural history museum. My research in paleontology involves vertebrate micro-fossils that are collected in the nests of the western harvester ant (P. occidentalis). These amazing insects collect significant amounts of fossils every field season here in Colorado and in other fossil-rich areas. They use these tiny fossils in the construction of their nest-mounds. By exploring the collecting methods of these ants, I am unraveling the taphonomy associated with this unique type of fossil assemblage. I conduct my field work on live colonies of these ants in a historic dinosaur quarry in the latest Cretaceous Lance Formation of Wyoming.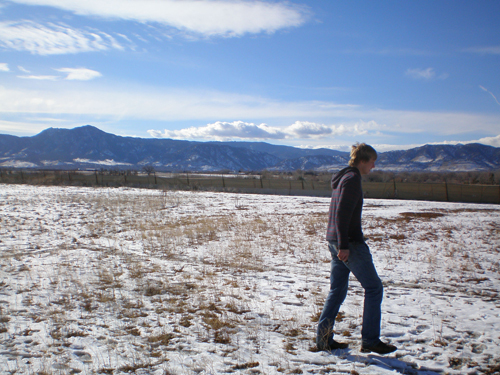 My work on the public side of the University of Colorado Museum of Natural History keeps me busy as well. With other members of the Museum Club I produced a multi-disciplinary exhibit, Tiny Collectors: Harvester Ants, last year for our recently revamped biology hall. The exhibit highlights the contributions that the harvester ants have made to CU's natural history collections, and it is on display in the Henderson Building on Campus. My favorite aspect of working in a University Natural History museum is the chance it affords me to work with other students.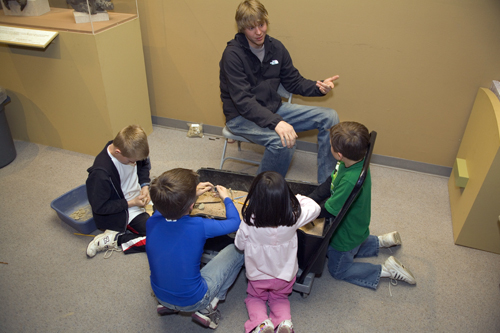 This year I worked with the Museum Club to produce special events for the education and public program sections. Museum in the Dark was a one-day-only museum production that included a "family day" for young children and their families and "student appreciation event" for undergraduate and graduate students.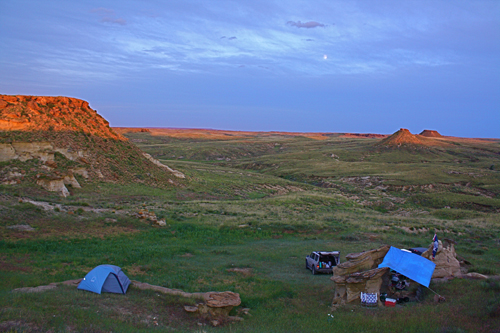 When I'm not working on projects for the University of Colorado Museum of Natural History, I am working with my own personal collection of cast dinosaur skeletons. My collection of latest Cretaceous Lance Formation skeletons includes nearly all of the dinosaurs found in this this formation as well as many of the flying reptiles, birds, mammals, lower vertebrates, marine reptiles, invertebrates, and plants with which they lived.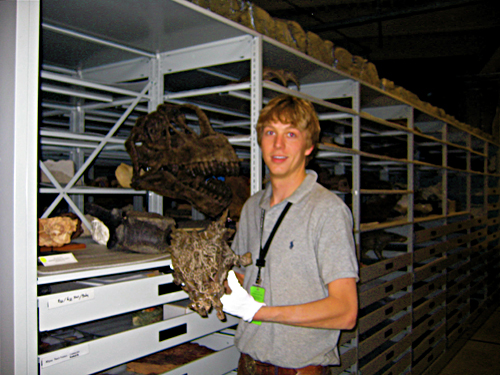 I use my collection to help museums re-create the paleoenvironment associated with this historic formation. I have contributed to temporary and permanent exhibits in museums across the country. This year, I worked with The Children's Museum of Indianapolis, Indiana, The Sternberg Museum of Natural History, in Hays, Kansas, The Cranbrook Institute of Science, in Detroit, Michigan, and the Community Arts Center Gallery in Danville, Kentucky. I will graduate in May with a Masters of Science in Museum and Field Studies, and will continue to work on a 5,000 square foot traveling exhibit with the Cranbrook Institute.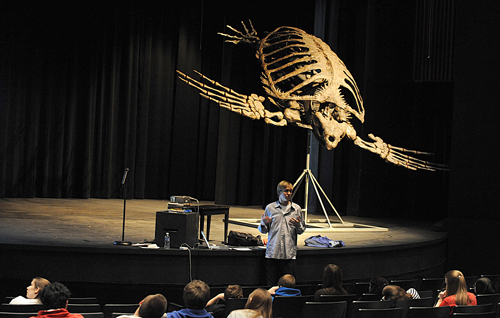 Turn-ons:
Bambiraptor feinbergi
Dracorex hogwartsia
Gem quality fossils
Well-hidden steel armature
Lagerstätten