OBJECT OF THE MONTH - January 2012
Woman's huipil from Nahualá, in western Guatemala
c. 1980
Claire Wilbert, University of Colorado Boulder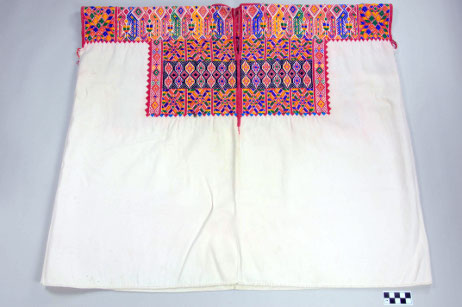 The huipiles woven and worn by Maya women in Central America are part of a longstanding tradition of complex and beautiful weavings. The same technology and materials that were used hundreds of years ago continue to be used today alongside new additions. Women weave huipiles on small, portable backstrap looms, allowing them to set up their work almost anywhere they choose, and use cotton, acrylics, and sometimes silks, to create their weavings. Huipiles are constructed from multiple pieces, with a vertical seam. The brightly colored designs around the neck and shoulders are created as the huipil is being woven, not added afterward. This technique, called brocading, produces designs with a tapestry-like texture. To create brocaded designs, a weaver adds supplementary wefts (horizontal threads) to the warps (vertical base threads) to create multicolored designs.
Huipil design and construction varies between villages, and each has its own particular arrangement of design elements and colors. The designs are not static though, and change over time, as does any fashion. While each village has its own huipil design, women are free to modify that design to suit their own sense of fashion, or choose a design from another village entirely. The choice to create and wear a different design is an individual one. In some cases, a woman will choose a different town's huipil because she prefers the design or colors. Another may want to stand out from her peers by wearing a different huipil. Or perhaps a third woman wants to signal that she is knowledgeable about the world outside her town by incorporating designs from a faraway village.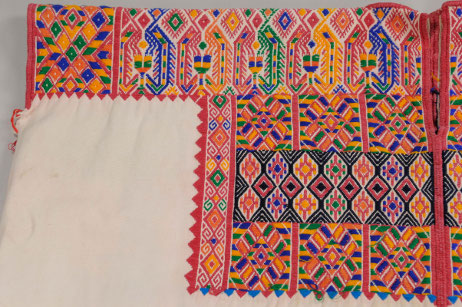 This huipil is from the town of Nahualá, and is an everyday style. Close examination of this huipil reveals that the dye from the bright red brocaded designs has bled into the undecorated white cotton section below. This is likely not a mistake. One of the stylistic characteristics that distinguishes the work of Nahualá weavers from those in other villages is the practice of allowing bright red dyes to run into undecorated sections, creating a pink halo around the brocaded sections.
More information on Maya textiles and backstrap looms can be found here:
Guatemalan Backstrap Weaving, by Norbert Sperlich and Elizabeth Katz Sperlich
The Maya Textile Tradition, edited by Margot Blum Schevill
Maya Textile of Guatemala: the Gustavus A. Eisen Collection, 1902, the Hearst Museum of Anthropology, the University of California at Berkeley, by Margot Blum Schevill