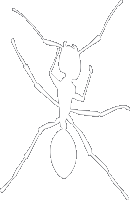 EXHIBITS
The University of Colorado Museum of Natural History's five exhibition halls present natural and cultural wonders from Colorado, North America, and the world. To learn more about current exhibits, see overviews of Longer Term Exhibits and Temporary Exhibits or visit the individual exhibit pages below.
Longer Term Exhibits
Temporary Galleries
The Museum's Traveling Exhibits Program offers a variety of affordable traveling exhibits for rental to museums, libraries, and other institutions.
You can also view web resources and activities from past exhibits in our Online Exhibit Archive.