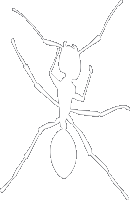 PAST EXHIBITS - ONLINE EXHIBIT ARCHIVE
Some past exhibits at the University of Colorado Museum of Natural History contained online components with additional information and educational resources and activities. These are archived on the website, but will not be further updated.

the invisible connectedness of things
01/17/2012 – 08/08/2012
EcoArts Connections and the University of Colorado Museum of Natural History present the invisible connectedness of things, a multi-faceted art/science/transportation exhibit created by internationally recognized visual artist Kim Abeles. The exhibit explores the impacts our transportation choices have on Boulder's air quality.

Object Conversations
3/30/2005 - 4/15/2006
The University of Colorado Museum of Natural History selected 25 sensational objects to display for this exhibit, from its world class collections numbering more than 4 million objects. Learn about the objects and the artists, musicians, writers, scientists, and others who contributed to this exhibit. Also contains resources for educators.

Stone Lace: The Fragile World of Florissant Fossils
12/9/2004 - 1/15/2006
Since the discovery of the Florissant Fossil Beds in 1873, paleontologists have come to the ancient lake basin nestled in rolling hills and an open meadow to collect fossils. Florissant, located about an hour west of Colorado Springs, is one of the world's richest fossil sites, boasting more than 1,700 diverse fossil species - many of insects and plants that are rarely preserved. Because the fossils developed from very fine volcanic ash matter, many delicate plants and insects from the Eocene have been perfectly preserved. This level of detail and preservation reveals much about the evolution of plant and animal communities and supplies important information about the climate of ancient Colorado.
Find out more about University of Colorado research at Florissant and the specimens displayed in the exhibit.

Three Cultures of Master Weaving
4/19/2004 - 10/17/2004
This exhibit featured a selection of important and beautiful southwestern textiles from the Museum's famous textile collection. How are Pueblo, Navajo, and Spanish American textiles different? What features enable us to determine when a textile was made? Find out more with the archived website, which includes resources for teachers.

Moth Matters: With Images by Joseph Scheer
3/1/2004 - 8/1/2004
Moth Matters featured giant colorful digital images of moths by Joseph Scheer, Professor of Print Media at Alfred University in New York, and fantastic moths from the University of Colorado Museum's vast entomology collection. The website contains a variety of activities and resources to learn more about moths.