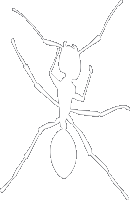 ANTHROPOLOGY HALL
Come explore our Anthropology Hall to learn more about this exciting field of study, which combines biology, history, sociology, linguistics, and more to help us understand human cultures and history.
Anthropology

Learn about the historical roots of anthropology, and about four of the specialties commonly studied today: cultural anthropology, linguistic anthropology, physical anthropology, and archaeology. This exhibit features artifacts and photographs, including a section highlighting the Olsen-Chubbuck Paleoindian bison kill site.
Earl Morris

Pioneering archaeologist Earl Morris (1889-1956) began work when little was known of Southwestern cultures like the Ancestral Puebloans. Here you can learn about the methods and adventure of early archaeology and see a variety of pottery and other artifacts excavated by Morris.
The Anthropology Hall also features a Discovery Cart with artifacts, books, and activities for children.