Jenell Thoene
Masters Candidate, Museum & Field Studies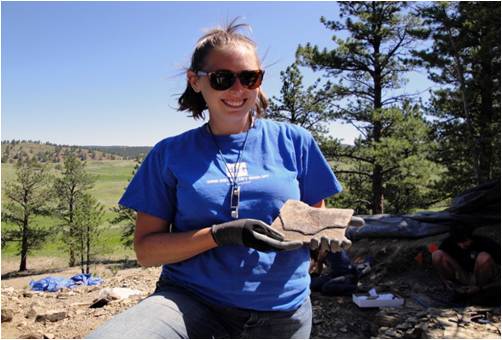 I am interested in studying fossil insects. Insects are the most diverse group of macroscopic life on earth, and therefore play an extremely important role in ecosystems. However, I am interested in how depositional environments influence the taphonomic quality of fossil insects. Understanding the depositional environments that influence taphonomic processes is important in order to use fossil insects to reconstruct paleoenvironments.
The Late Eocene Florissant Fossil Beds is an ideal location for studying fossil insects. The Fossil Beds is a lacustrine Lagerstatten deposit known for its exceptional preservation of fossil insects. I have spent the last two summers overseeing an extensive excavation at Florissant Fossil Beds National Monument where both plant and insect fossil were collected. I have since begun my research on the taphonomy of the fossil insects collected.
Field Photo