THE PEMBERTON COLLECTION
Pemberton's Biography | Browse the Collection | Access & Museum Policies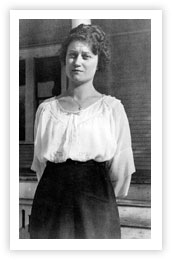 Ida Hrubesky Pemberton created 64 botanical watercolors during the 1930s and 1940s, taking inspiration from plants she grew and nurtured at her Denver home. She is revered among botanical artists who applaud her work for its beauty and painstaking detail.
Her art has been exhibited at several prestigious institutions: in 2003 they were displayed at the Hunt Institute for Botanical Documentation at Carnegie Mellon University in Pittsburgh; in the 1950s, the Denver Museum of Natural History (now the Denver Museum of Nature & Science) showed her paintings, the New York Botanical Garden, and the Smithsonian Institution also exhibited her work (James J. White, The Healings Plants of Ida Hrubesky Pemberton, 2003). These exhibitions drew widespread recognition for the Denver artist, who died of a stroke in 1955, at the height of her career.
Shortly after her death, Mrs. Pemberton's husband, W.E. Pemberton, sold the watercolors to the University of Colorado Museum of Natural History, where they are preserved.