MANTLE'S CAVE ARCHAEOLOGICAL COLLECTION
Browse the Collection | Excavation Photos | To Learn More | Access & Museum Policies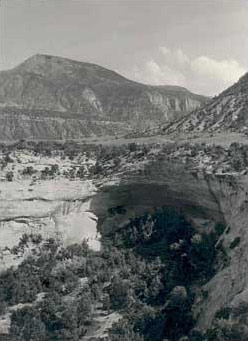 Mantle's Cave is located in Dinosaur National Monument in northwestern Colorado, just south of the Yampa River. It is a large, vaulted, north-facing cave 100 m long x 40 m wide x 33 m in height, formed in sandstone. The relatively level floor covers over 300 square meters, and its contents are stable and dry.
Mantle's Cave is named after Charley Mantle, the property owner during the 1940 excavation of the cave. Mantle was one of the first to recognize the cultural significance of the cave and the other rock shelters in the Castle Park Region, and the need for their preservation and interpretation. In 1939 Frank C. Lee and J.R. Jones of Boulder, Colorado, dug at Mantle's Cave, collecting numerous objects, among them a basket containing fishhooks, bundles of snares, and netting. The artifacts were brought to Earl Morris. It is easy to see why the discoveries of Lee and Jones inspired academic investigations the following year
The 1940 excavation was conducted by Charles R. Scoggin, student assistant at the Museum, and Edison P. Lohr of Loveland, Colorado. They excavated some 17% of the cave (Horn and Reed 1989). Scoggin died in World War II. Robert Burgh did additional work in Castle Park in 1947 and 1948 and published their findings in 1948 in The Archaeology of Castle Park, Dinosaur National Monument.
A variety of material remains were recovered from Mantle's Cave during the 1939 discoveries and the 1940 excavation. These include: flake stone tools, ground stone, bone implements, bags made of hide and netting, coiled basketry, snares, cordage, matting, moccasins, headdresses, corn and more. Approximately fifty storage pits of various kinds were recorded. Burgh and Scoggin (1948) concluded that Mantle's Cave:
Was not used for residential purposes
Was used for storage of corn and other foods
Was used to store perishable materials
Contained relatively little pottery and no human remains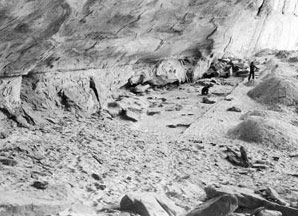 Burgh and Scoggin assigned the materials to the Fremont culture, later referred to as the Uinta Fremont, and gave the site a date range of 400-800 A.D. based on artifacts. The Uinta Fremont are thought to have continuously occupied this area from 550-1000 A.D.and there is evidence that they may have remained in the area as late as 1300 A.D.(Spangler 2000). The Fremont are believed to have been both hunter-gatherers and farmers. Subsequent investigations demonstrated that the cave was used for longer than the time period Burgh and Scoggin thought. Also, reanalysis of some of the artifacts from the cave suggest that the Uinta Fremont interacted with other Fremont groups as well as groups from the Plains and the Southwest.
The Mantle's Cave collection of artifacts and archival material from Scoggin, Lohr, and Burgh is curated at the University of Colorado Museum of Natural History. Scoggin made meticulous field notes and kept a journal with personal impressions of his Castle Park experiences. He endured sleep deprivation and weather reaching 30 degrees below zero, but he also enjoyed breathtaking scenery, freshly baked cookies, insight, and companionship from the Mantle family. Ten intriguing artifacts from the Mantle's Cave/Castle Park collection are presented here along with their descriptions and comments, when available, from Scoggin's journal.
Researched and written by Sheila Goff, Museum Associate, University of Colorado Museum.
Calibrated carbon-14 dates funded by the Endowed Fund for Anthropological Research at the Museum and the Colorado State Historical Fund.