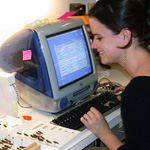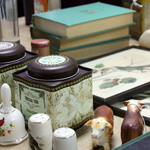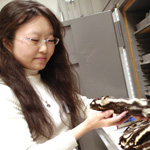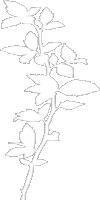 MFS GRADUATE PROGRAM - ALUMNI PLACEMENTS
Museum and Field Studies graduates are prepared for a wide variety of positions in the museum community. Following is a list of graduates who are currently employed in the museum field and related fields or who are pursuing doctoral degrees.
2008 Graduates
Kate Bowell, Curator of Cultural Interpretation, Fort Collins Museum, Fort Collins, CO
Kathy Hollis, Invertebrate Paleontology Collection Manager, University of Colorado Museum of Natural History, Boulder, CO
Bethany Lewis, Field Biologist, Bureau of Land Management, Pinedale, WY
Aspen Padilla, Library Technician, Chemeketa Community College, Salem, OR
Katy Putsavage, PhD student, University of Colorado, Boulder, CO
2007 Graduates
Kristian Anderson, PhD student, University of Washington, Seattle, WA
Eric Chapman, Exhibits Manager, Museum of the Earth, Ithaca, NY
s
Karen Lloyd, Lloyd Museum Consulting LLC, Denver, CO
Kelli O'Leary, Senior Staff Assistant, Getty Villa Programming, J. Paul Getty Museum, Los Angeles, CA
2006 Graduates
Lindsay Jones, Field Supervisor, Terry Dowd, Inc., Art Packing & Transport, Denver, CO
Roxana Raska, Researcher, M:Communications, London, England
Samantha Richards, Educator/Coordinator of Earth Gallery Programs, Denver Museum of Nature & Science, Denver, CO
Amy Wilkinson, Collections Assistant, State Museum of New York, Albany, NY
2005 Graduates
Danielle Benden, Curator of Anthropology, University of Wisconsin-Madison, Madison, WI
Sheila Goff, NAGPRA Liaison, Colorado Historical Society, Denver, CO
Laura Stroud, Curator of Education, Boulder History Museum, Boulder, CO
Monique McHenry, PhD student, University of Vermont, Burlington, VT
Sarah Price, Curator of Collections, Rogers Historical Museum, Rogers, AR
Tamar V. Scoggin, Museum Coordinator, University of Colorado Art Museum, and Curator, Mechak Center for Contemporary Tibetan Art, Boulder, CO
2004 Graduates
Mary Coleman, Environmental Educator for Pierce County Public Works & Utilities, Tacoma, WA
Kirsti Giles, Visiting Assistant in Museum Operations, John and Mary Ringling Museum of Art at Florida State University, Sarasota, FL
Marie (Worley) Georg, Senior Administrative Assistant, Exhibitions Department, Field Museum of Natural History, Chicago, IL
2003 Graduates
Steve Armstead, Park Ranger, Boulder County Open Space, Boulder, CO
Christie (Kirsch) Cain, Anthropology Collection Manager, University of Colorado Museum of Natural History, Boulder, CO
Will Roberts, Exhibits Preparator, Culture and Heritage Museums of York County, Rock Hill, SC
2002 Graduates
Melissa Bechhoefer, Registrar, Colorado Historical Society, Denver, CO
Celia Curtis, Coordinator of Interpretation, Denver Botanic Gardens, Denver, CO
Jennifer Rose, Assistant Project Evaluator, The Exploratorium (Palace of Fine Arts), San Fransisco, CA
Allison Wickens (Certificate), Special Projects Coordinator, National Postal Museum, Washington, D.C.
2001 Graduates
Betsy L. Bennett, Curator/Educator, The Nature Museum at Grafton, Grafton, VT
Jill E. Rawlins Dreves, Executive Director, Wild Bear Center for Nature Discovery, Nederland, CO
Erik Heikkenen, Curator/Director of Permanent Collections, American Numismatic Association, Money Museum, Colorado Springs, CO.
Chad W. Landsman, Manager of Anthropology Lab and Collections, Luther College, Decorah, IA
Becky R. Latanich, Archivist, Estes Park Public Library, Estes Park, CO
JJ Lonsinger Rutherford, Public Programs Coordinator, Colorado History Museum, Denver, CO
Tristan R. Toland Alamazan, NAGPRA Specialist, Field Museum of Natural History, Chicago, IL
2000 Graduates
Rita J. Cordalis, Director, Fort Lewis College Art Galleries, Durango, CO
Elizabeth Krecek (Certificate), Registrar, Douglas County Historical Society, Omaha, NE
Yi-Jung Lin, Project Coordinator, Greer County Exhibition and Design Company, Taipei, Taiwan
Julie Marino, President, Cultural Interpretations, Denver, CO
Judy M. Newland, Curator of Art, Wright Museum of Art at Beloit College, Beloit, WI
Erin (Schaaf) Robertson, Staff Biologist, Center for Native Ecosystems, Boulder, CO
Dana R. Schaar, Account Executive, Clearwater Communications, Bismarck, ND
Gianna M. Sullivan, Outreach Coordinator, Denver Museum of Nature and Science, Denver, CO
Katherine Turner, Collections Manager, Strong Museum, Rochester, NY
1999 Graduates
Priscilla L. Tilly Laskey, Curator of Ethnology, Science Museum of Minnesota, St. Paul, MN
Erin K. Beatty McCray, Herbarium Manager, USDA National Fungus Collections, Beltsville, MD
Nicolette B. Meister, Curator of Collections, Logan Museum of Anthropology, Beloit, WI
Joslyn Schoemer, Space Odyssey Experience Project Manager, Denver Museum of Nature and Science, Denver, CO
1984-1998 Graduates
James T. Alton (1997), Deputy Director, Lancaster County Historical Society, Lancaster, PA
Jan Ilene Bernstein (1994), President & NAGPRA Specialist, Bernstein and Associates, Denver, CO
Dena A. Clark (1995), Botanical Consultant, Denver, CO
James R. Cordeiro (1997), Research Zoologist, Nature Serve, Boston, MA
Margaret Creel (1994) Resident Naturalist, Three Creek Ranch, Jackson WY
Ramona East (1997) Museum Specialist, National Park Service, Southeast Archeological Center, Tallahassee, FL
Nancy Geyer (1990) Director, Boulder History Museum, Boulder, CO
Jill E. Graham (1984), Educator, Denver Museum of Nature and Science, Denver, CO
Andrew Granitto (1992), Curator of Exhibits and Programs, Yakima Valley Museum, Yakima, WA
Rebecca L. Hutchins (1997), Curator of Collections, Whatcom Museum, Bellingham WA
Carol Ann Kampert (1988), Educator, Denver Museum of Nature and Science, Denver, CO
Julie E. Korb (1997), Assistant Professor, Ft. Lewis College, Durango, CO
Andrea Orthner (1999), Field Botanist, Western Ecological Resource, Inc., Boulder, CO
Karen Swain (1998), Web Developer, North Carolina Museum of Natural Sciences, Raleigh, NC