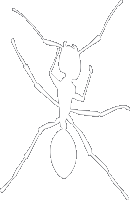 BOOKING A TRAVELING EXHIBIT
Each exhibit contains complete labeling and is ready to install. Some exhibits include promotional posters, videos and gallery handouts. Please refer to individual exhibit descriptions for details.
Requesting a Booking
When inquiring about an exhibit, please include the name of your institution, a contact person, address, and phone number. Tell us which exhibit you are interested in booking and the preferred dates for your exhibition. Exhibit bookings are subject to availability.
To request a booking via e-mail, send your letter to exhibits@colorado.edu. You can also contact the Exhibits department by telephone (303-492-2882) or fax (303-492-4195).
Written inquiries should be addressed to:
Exhibits Department
University of Colorado Museum of Natural History
University of Colorado at Boulder
218 UCB
Boulder, CO 80309
Handling
Each exhibit must be protected against loss, damage, and deterioration. If these conditions occur, the University of Colorado Museum of Natural History must be informed in detail immediately. The sponsor must not unframe objects nor undertake repairs. All packing, transportation, and customs formalities must be arranged by the sponsor in conjunction with the University of Colorado Museum. Exhibits may be photographed for publicity purposes and condition records only. A credit line to the University of Colorado Museum must be included with any publications or notices connected with the exhibition. Exhibits are scheduled to arrive one week prior to the opening date and to ship one week after the closing date, unless prior arrangements are made with the University of Colorado Museum.
Fees
All shipping costs must be paid by the sponsor. Rental fees are due and payable to the University of Colorado Museum upon receipt of an invoice issued concurrently with exhibition shipment. Bookings are confirmed upon receipt of a signed contract. Rental fees are based on eight week exhibitions (see specific exhibit pages for details).
Low Security Requirements
The exhibition facility must have limited access, be supervised when open, and locked when closed. All handling must be performed by persons familiar with appropriate conservation standards and practices. The exhibition must not be exposed to direct sunlight.
Moderate Security Requirements
In addition to meeting low security requirements, the exhibition area must be single purpose (no unrelated events conducted concurrently in the gallery). Security methods approved by the University of Colorado Museum must be used when the exhibition is not open. Secured cases must be provided for any unframed object or specimens.