 DIRECTIONS & PARKING
The University of Colorado Museum of Natural History is located in the Henderson Building on the University of Colorado-Boulder campus between 15th and 16th Streets, just east of Broadway. The walking map below shows how to get to the Museum from Euclid AutoPark.
View a driving map for driving directions to the Museum.
If arriving by school bus, we recommend that you drop the students off near the University Memorial Center on Euclid Street and walk the short distance to the Museum.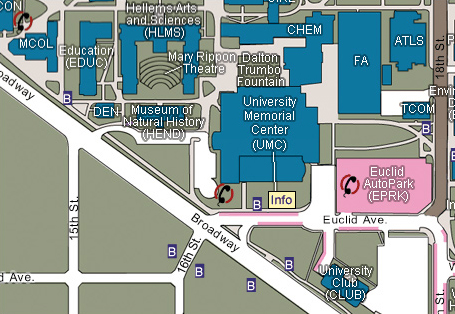 Parking
Visitor parking is conveniently located in the Euclid AutoPark just east of the University Memorial Center (UMC). There is a $1.75 per hour parking fee for the first three hours, and a $3.00 per hour fee after the initial three hour period on weekdays from 7 a.m. to 5 p.m. On weekday evenings after 5 p.m. and on weekends, there is a flat fee of $3.00 for parking.
The parking lot in front of the Museum (Lot 208) is available during evenings (after 5:00 p.m.) and on weekends for $3.00 (exact change required). It is possible to park in the residential area west of Broadway. Parking in these areas is limited to two hours during the week. There is no time limit during the weekend. There are also 2- and 4-hour metered spaces on University Hill, west of Broadway and north of the Museum.
More Information
For more information on getting to the Museum or finding parking, please contact the Museum via email at cumuseum@colorado.edu or by telephone at 303-492-6892.