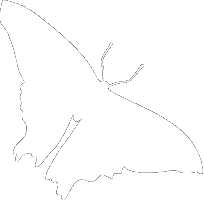 END OF EPOCH AS ROBINSON RETIRES
September 30, 2002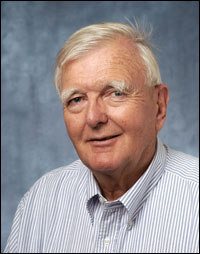 Dr. Peter Robinson, Former Director of CU Museum and Curator Emeritus of Geology
Peter Robinson, Curator of Geology and Professor of Geological Sciences, retires September 30th, after 41 years with the Museum. Robinson served as Museum Director from 1971-1982.
At the Millbrook High School in New York, Robinson first prepared fossils under the direction of his biology teacher. The school encouraged him to attend a joint meeting of the Society of Vertebrate Paleontology and the Geological Society of America. He was hooked.
Robinson earned his B.S., M.S. and Ph.D. degrees in geology from Yale University. Summer fieldwork turned Robinson's attention to the West. His first geological field trip in 1949 was to the Bridger Basin, Wyoming, a place to which he has returned over the years for collecting research. Other field trips with George Gaylord Simpson followed, culminating in his Yale dissertation on the fossil mammals from the Eocene Huerfano formation.
Robinson was hired in 1961 by Museum Director Hugo Rodeck to develop collections that would support teaching and inspire research. After familiarizing himself with the collection, Robinson began field collecting and exchange programs, acquiring additional collections and materials such as reprints, color slides, and maps. The vertebrate paleontology collection at the Museum now ranks among the top university museums nationally, with its greatest strength in Tertiary mammals. Robinson's fieldwork has taken him to the western United States, Tunisia, Morocco and Sudan. His activities as curator and professor have been guided by his understanding the importance of knowledgeable collecting.
During his tenure as Director of the Museum, he is proud of having instituted faculty teaching responsibilities. He also reorganized the exhibit halls and oversaw the single greatest period of major collection growth in the Museum's history. An honorary member of the Society of Vertebrate Paleontology Society, Robinson will continue his research on collections and taphonomic problems, and will lend an experienced eye to the Pleistocene microteeth at the Bois Roche Paleolithic site being excavated by his wife, Dr. Paola Villa. We will continue to seek his guidance.
Return to the Newsroom.
Scan the Museum's News Archive.