February 21, 2013 – February 14, 2014
Ancient Southwest:
Peoples, Pottery and Place
Changing Gallery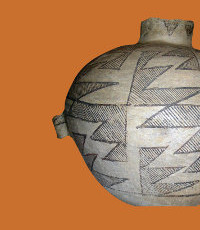 More than 100 rarely exhibited ceramics from the museum's celebrated southwestern collection, with aerial photographs of ancient southwestern ruins providing a visual frame of reference.
Wednesday, February 27, 2013
Opening Reception and Lecture
6:00 p.m. Special Members Only Tour
Changing Gallery

6:30 p.m. Public Reception
Paleontology Hall & Changing Gallery

7:00 p.m. Lecture with Curator Steve Lekson, "The Ancient Southwest,"
Paleontology Hall
---
Thursday, March 7, 2013
"The Renaissance of Mesa Verde Pottery"
Ancient pottery technology talk presented by professional artist Clint Swink.
Meet and enjoy a presentation by Clint Swink who has been creating Anasazi and Maya pottery replicas for more than 27 years. His pioneering replicating efforts lead to the rediscovery of lost Anasazi (Ancestral Puebloan) ceramics art forms such as Mesa Verde Black-on-white of which he is now considered to be the only living master.
Paleontology Hall
---
CANCELLED: Thursday, September 26, 2013
"Places of Meaning, Moments of Wonder: Photographing the Ancient Southwest from the Air," presented by aerial photographer Adriel Heisey.