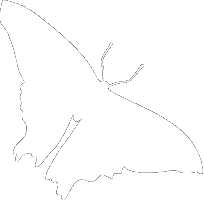 INVERTEBRATE PALEONTOLOGY CURATOR RECEIVES NSF GRANT
August 13, 2004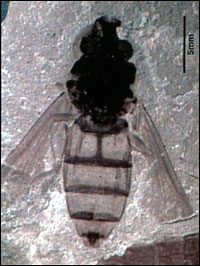 Syrphid Fly (commone name: Flower Fly). They are excellent mimics of bees and wasps, both in their appearance and behavior. Collected from the Douglas Pass region of Garfield County, Colorado from the 45 million year old Green River Formation.
Dena Smith, Curator of Invertebrate Paleontology and Assistant Professor of Geology, has received a grant of $432,132 from the National Science Foundation to improve and computerize the invertebrate paleontology collections at the CU Museum.
The CU Museum now has over 300,000 fossil marine invertebrates, terrestrial invertebrates and plants in the collection and we are among the few museums worldwide to have large and historically important fossil insect collections. The grant will help bring these important collections up to the highest curatorial standards and will incorporate all specimen data into a new, secure relational database. This database will be made available online and will be especially important for producing national and international research collaborations. It will also serve as a valuable tool for teachers and the public.
As a result of this funding, the CU Museum has hired Amy Moe, a graduate of the Museum and Field Studies Program, to serve as the new Invertebrate Paleontology collection manager. The grant will also support students from both Museum & Field Studies and Geology Departments. The grant is scheduled to run from August 15th, 2004 through July 31st, 2007.
Return to the Newsroom.
Scan the Museum's News Archive.